Y Manufacturing?
We are in the midst of a manufacturing renaissance, especially in the Southeast. The Upstate has a seasoned workforce, however with the increase of new technologies and approaches to manufacturing including additive and robotics, the requisite skills needed in science and engineering have also increased. How do improve this knowledge gap? How do we get more interested in manufacturing especially the Y and Z generations? How do we tap into the large number of engineers in SC to help?
At our MESHSC event on Tuesday, April 19 our speakers, who are passionately advocating learning and advancement of manufacturing in South Carolina, will be addressing these questions and more. Both speakers will share insights into their organizational initiatives involving human capital development needs.

Jay Blankenship will share an overview of his role as Workforce Advisor for Greenville and the State Future Makers Initiative and implications to the future of advance manufacturing impact on South Carolina.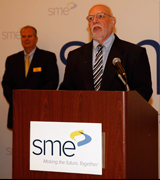 Dick Tiano, will be providing a presentation about "What is SME" and our ties to Advance Manufacturing. He will cover areas such as the Advanced Manufacturing media that is available, events we sponsor and support, membership and its benefits, the technical communities available, certification opportunities and he will wrap up with information and accomplishments for SME Chapter 430. Dick is currently the Chair of that Chapter.
We will wrap up our event with a crowd-sourced ideation engagement targeting involvement of manufacturing engineers and support from the Upstate SC.
Food and refreshments will be served.
About our Presenters
Jay Blankenship is the Regional Workforce Advisor for the SC Department of Commerce, Greenville Region. One of his primary roles is to create a better prepared workforce by connecting academic studies with workforce preparation thereby boosting and positioning South Carolina as a key competitor in today's global economy.
As a certified Global Career Development Facilitator (GCDF), Mr. Blankenship is an acknowledged expert in organizational development, operating efficiency and counseling students in the higher education admissions process. Formerly with Clemson University admissions and recruitment, he earned master degrees in Business Administration and Human Resource Development from Webster University and a Bachelor of Science Degree in Marketing from South Carolina State University.
As author and seasoned lecturer, Mr. Blankenship is the recipient of many awards and has been recognized for excellence by multiple businesses, organizations, and institutions. Most recently, he was awarded the National Workforce Development Leadership Award by the National Office of the Jobs For America's Graduate Program in Washington, DC.
He was also honored as one of three individuals making a difference in Anderson, South Carolina by the Anderson Independent-Mail, and he was recognized for his Upstate community contributions by Greenville's WJMZ Radio. He was also selected as a 'Real Father Real Man' by the nationally syndicated Tom Joyner Morning show. Jay will advise us in our MESHSC Initiative.
Dick Tiano has been with SCRA for 7 years and has worked as a subcontractor within the organization for 20 plus years. Dick is a Senior Program Manager at responsible for the technical management of programs within the Maritime & Manufacturing Technologies Division related to manufacturing, supply chain solutions, technical data solutions, digital work instructions and other miscellaneous engineering solutions. He is also responsible for maintaining the SCRA Applied R & D computer lab that is used to develop, test, display software and also use in a production environment as a result of various programs within SCRA. He has also taken on responsibilities within the Energy, Security & Software Solutions division working on the DoD Electronic Mall (EMALL) project in a technical capacity and the Post Traumatic Stress Disorder (PTSD) project as the Program Manager. Dick is very active in the local schools in Charleston and currently is the Chair of the local SME Chapter 430 and is also Chair the Charleston Joint Engineering Council.